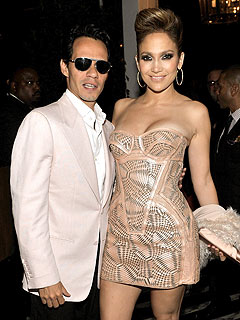 Jennifer Lopez and Marc Anthony held court with a who's who of stars – everyone from Rihanna to six-time Grammy winner Beyoncé – at music mogul L.A. Reid's post-Grammy Awards dinner party at Cecconi's in West Hollywood. Lopez had some girl talk with Nicole Richie, before settling down to the table, while Anthony and Joel Madden stood nearby. Soon, Glee star Matthew Morrison joined his possible future costar Lopez at the table, and the two giggled and chatted like "old pals," an onlooker says. Guests enjoyed food like Kobe beef and gorgonzola sliders and wild mushroom risotto, while the Grammy telecast played on television screens in the restaurant.
Jennifer Lopez will attempt to "break" prime-time's most infamous womanizer, Barney (Neil Patrick Harris), when she guest-stars on "How I Met Your Mother" this season. Lopez, who tried her hand as a late-night host during "The George Lopez" show last week, seems to be making a habit of appearing on the small screen.
According to a press release, Lopez will play a self-help author, Anita Appleby, who writes about the ways "to train men into relationship machines through the power of denial." After she learns about Barney's treatment towards women from Robin (Cobie Smulders), Appleby wants to tame him.
"We couldn't be more excited about Jennifer Lopez joining us on 'How I Met Your Mother,' " executive producer and co-creator Carter Bays said of the latest celebrity cameo on his hit CBS comedy. "We're looking forward to a week of revealing outfits and sexy dance moves the likes of which this show hasn't seen since Regis Philbin guest-starred."
Lopez is also rumored to be making a guest appearance on "Glee." According to reports, the show's producers are trying to get her on the show to play a cafeteria worker. Coincidentally, Harris is also reportedly guest-starring on the Fox dramedy, according to Entertainment Weekly.
"Discussions are ongoing and we haven't gotten into the episode(s) [Lopez would] be appearing in," "Glee" executive producer Brad Falchuk told E! Online. Show creator Ryan Murphy told "Extra!"
The actress and singer, who began her career on TV as a dancer on "In Living Color," has been ramping up her appearances lately, beginning with her (unintentionally hilarious) performance of "Louboutins" at the American Music Awards in November. Her new album, Love?, was originally scheduled to come out in January, but it's since been pushed back to April.
Carrie Underwood is also set to make a cameo on "How I Met Your Mother," where she will play pharmaceutical sales rep and love interest for Ted (Josh Radnor) in an episode airing in March. In the past, "The Hills" stars Heidi Montage and Spencer Pratt have guested on the show, as well as Britney Spears who played love-struck receptionist Abby in 2008.